Get White Teeth Fast
Are you dissatisfied with dull teeth? Have you been disappointed by results from store-bought whitening kits?
The best way to achieve a Hollywood level smile is with professional teeth whitening. Dr. Dankworth and Dr. Corrigan Dankworth can brighten your smile in about an hour at Oceanside Dental Excellence, and we can promise you'll see real results.

Professional Teeth Whitening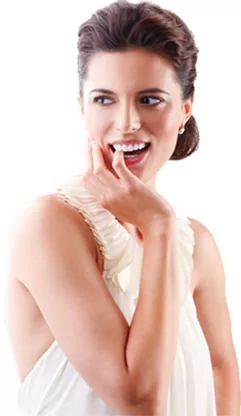 If you want white teeth fast, in-office teeth whitening is probably your number one option. The reasons why in-office teeth whitening at Oceanside Dental Excellence is so great include:
Our dentists will protect your gums and lips from the powerful bleach.
We will take your sensitivity levels into consideration and use protective agents to prevent tooth pain.
We use state-of-the-art technology to ensure total comfort during the procedure and beautiful white teeth after.
We apply a quick fluoride treatment after teeth whitening to strengthen the teeth and reduce sensitivity.
You will leave our office with a smile that is up to six to ten shades whiter after one short appointment!
Take-Home Teeth Whitening Kit
Some patients would rather achieve white teeth in a comfortable environment on their own time. Instead of those unreliable one-size-fits-all trays, there is a better option for you.
We can design a custom teeth whitening kit that you can use to achieve superior results at home. Your trays are made with your comfort and protection in mind. They are closely fitted to your teeth to deliver optimal results.
Our dentists will provide you with all of the tools you need to attain beautiful white teeth, along with instructions for use of your teeth whitening kit. You should apply the whitening gel to your trays and wear them for the instructed amount of time. Within a few weeks, your smile will be noticeably brighter.
Schedule a Teeth Whitening Appointment in Oceanside
Ready to change to dramatically change your smile and get whiter teeth? Call, text, or contact us using the form on this page to learn more about teeth whitening or to schedule a teeth whitening appointment. We've helped whiten the teeth of patients from all over Oceanside, Fallbrook, and Vista CA.
You May Also Be Interested In